Drug & Alcohol Rehab in Berkshire
Several districts in Berkshire during the period between 2014 and 2016 recorded higher rates of death due to heroin or morphine misuse than the national average.
During this time period, West Berkshire recorded 2.1 deaths per 100,000 people, and Reading recorded 5.8, compared to the average rate across England of 1.9. [1]
According to a 2017 national survey, West Berkshire recorded the highest percentage of individuals (21.6%) who said they drank four or more days a week. [2]
Suppose you have a drug and/or alcohol addiction. In that case, it can be incredibly difficult to admit this to yourself and even more challenging to acknowledge that you may need professional help to overcome your problem.
If your drug or alcohol consumption has become problematic, you can find the recovery treatment that you need locally in the Berkshire area.
Here at OK Rehab in Berkshire, we are ready to support you, whether you're ready to commit to your recovery or need a little more convincing that it's the right step for you.
Many people in Berkshire and the wider UK are struggling with addiction problems, so you are by no means alone.
Denial is a common trait of addiction, so if your immediate instinct is to brush off or ridicule the sentiment that your substance use is a cause for concern, think again.
At OK Rehab, we help people in the local area and all over the UK to begin their recovery journey and start a new life.
There is no judgment here, and you will receive a confidential and empathetic ear for your problems.
We understand the degree of fortitude involved with admitting that you need help, and we applaud anyone who has the strength to tackle their addiction head-on.
We also know from experience that committing to rehab treatment in Berkshire, especially if you're new to the concept, can be intimidating concept.
We have therefore put together some answers to the most frequently raised concerns made by those who are considering rehab in Berkshire but are not yet committed.
If you don't find the answer you're looking for, reach out with any other concerns that you may have.
As well as a top-quality referral service, we can support and advise those who need help coming to terms with their addiction.
Please call our 24-Hour Helpline: 0800 326 5559
Pre-rebab steps: Intervention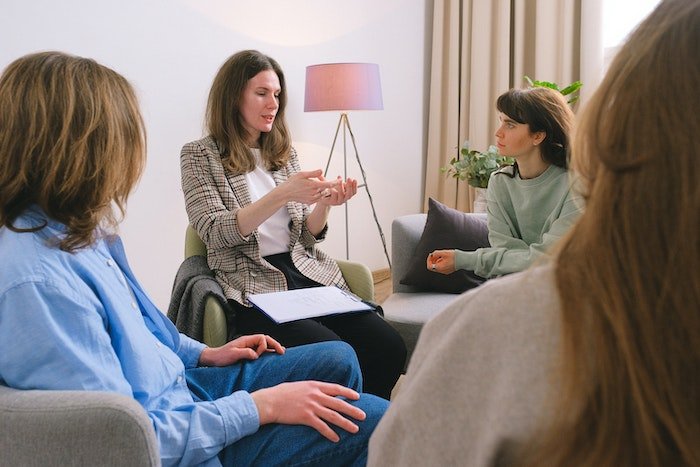 Addiction is a condition that greatly distorts how an individual sees their own behaviour, and this means that they are often unable to see that they need help.
Because of this, family and friends sometimes kickstart the rehab process, doing so via intervention.
Interventions are events that bring together an individual's closest family and friends to draw their attention to their behaviour problems.
These events are very sensitive in their approach, with each attendee offering support as well as pointing out the issue.
The desirable outcome is for an individual to see that they are in need of professional help and feel supported enough by their loved ones to make that step.
Interventions are hard to pull off in terms of arranging one that works for the attendees and ensuring that the right supportive tone is maintained throughout. To help, professional interventionists can be hired who can lend expertise in these areas.
These specialists can also attend the intervention itself, lending support in keeping things on track and providing the event with a level of validity so that an addicted individual realises that their family and friends are being serious in their concerns.
Please call our 24-Hour Helpline: 0800 326 5559
The CRAFT Approach to Intervention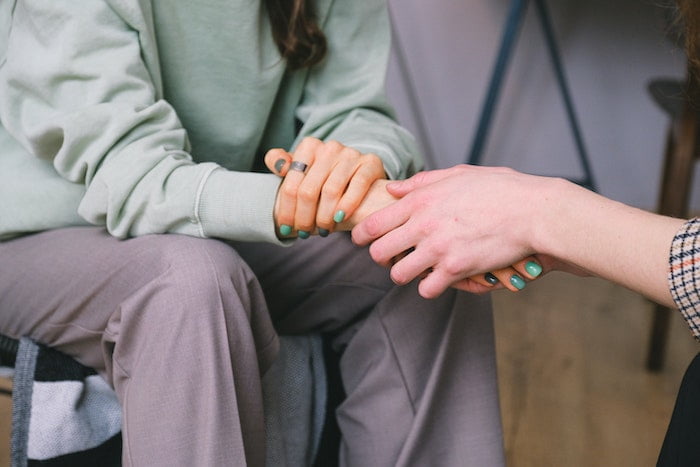 Interventions can take other forms than their conventional, single-event style. One such variation is CRAFT interventions, an approach which involves family and friends cooperating to help an addicted individual develop healthier associations in their brain.
Addiction stems from the brain thinking that drug or alcohol use is beneficial. It sees the 'high' provided by these substances as something to pursue when individuals want to feel happy, and CRAFT looks to reverse the brain's habit of working like this.
It does this through family and friends, rewarding individuals when they make healthy decisions. This usually means that they do nice things for them when they abstain from substance use or go to treatment sessions.
These rewards are offered alongside punishments when individuals reinforce their addictive tendencies. This tends to mean that individuals are left to struggle unsupported when they experience the negative consequences of substance use.
Over time and with consistent effort, the CRAFT approach helps individuals replace their unhealthy associations with new ones, with them learning that sobriety is more beneficial for them than addiction.
Please call our 24-Hour Helpline: 0800 326 5559
How do I know I'm Addicted?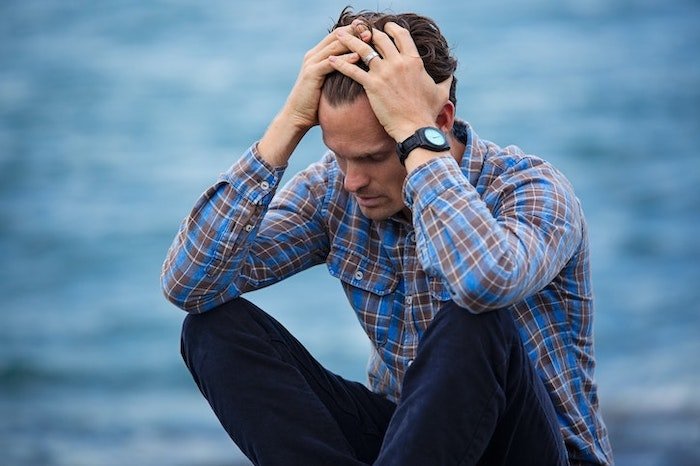 Even though addictions are obvious conditions to spot from the outside, those who struggle with them can find it difficult to realise the harmfulness of their behaviour. Denial plays a big part in this, almost always stopping those with difficulties from seeing it. [3]
In order to prevent substance abuse problems from developing to a life-threatening level, it is important to help individuals spot the signs of addiction in themselves.
One technique for this is the CAGE questionnaire, which involves individuals asking themselves four questions.
These are:
Have I ever considered cutting down on my substance use?
Have I ever been annoyed by a family member or friend commenting on my substance use?
Have I ever felt guilty about the extent of my substance use?
Have I ever used a substance as an 'eye-opener' to wake myself up in the morning?
CAGE is an acronym designed to help individuals notice these four traits in their behaviour. If they answer 'yes' to any of the questions, it indicates that they have addictive tendencies and should seek help from an addiction facility or doctor.
Please call our 24-Hour Helpline: 0800 326 5559
How much does rehab cost in Berkshire?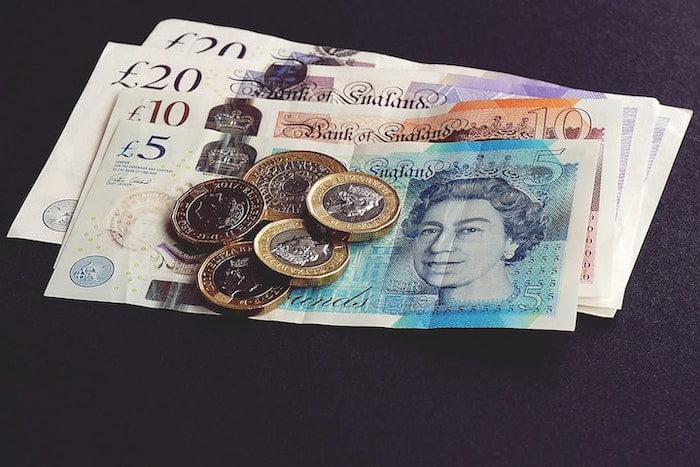 Deciding what kind of drug and alcohol rehab in Berkshire is right for an individual is often a matter of judging what treatment programmes they can afford. Different facilities charge different amounts depending on what services they offer, and prices can really vary.
A day of inpatient rehab in the UK costs £495 on average. The average cost of a full  28-day programme is £14,000, but this varies quite a lot.
On one end of the scale, programmes can charge between £1,000 to £10,000 for a week of treatment, whereas on the other, they can be much more expensive, adding up to over £70,000 for a full rehab programme.
Because of how much the price of rehab can differ, it is important to conduct research into the affordable options in Berkshire or your respective area and assess which of those is most appropriate for your situation.
Please call our 24-Hour Helpline: 0800 326 5559
Does health insurance cover drug and alcohol rehab in Berkshire?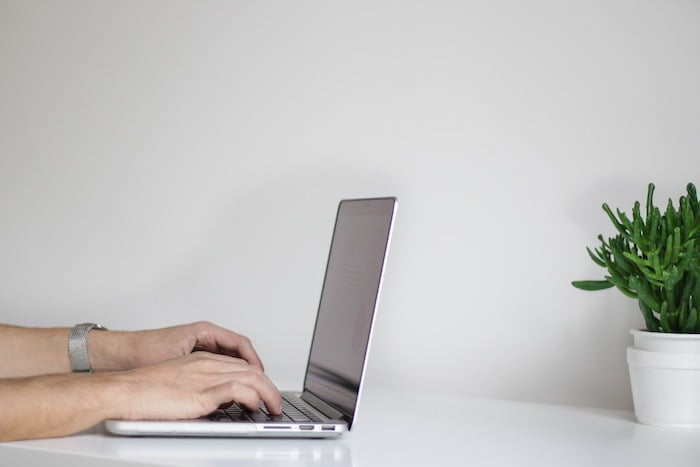 Beginning rehab in Berkshire can be stressful for many reasons, and one of the most common is the issue of money. Even if individuals do not opt for private addiction treatment and the admission costs, leaving work to get help can cost a lot of money.
Because of this, many can wonder if their health insurance can cover the costs or help out financially when it comes to getting addiction support.
It is becoming increasingly common for health insurance providers to include mental health and addiction services in their policies. To find out if this applies to you, be sure to check the contracts of all coverages you have or reach out to your insurance provider.
Please call our 24-Hour Helpline: 0800 326 5559
Is drug and alcohol rehab on the NHS?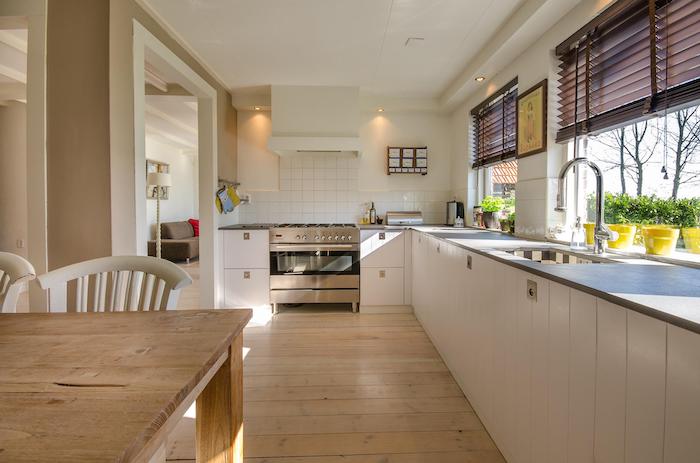 When individuals in the UK suffer any physical health complications, they can rely on the NHS to provide support and medication to help them get better. When addiction strikes, individuals can wonder if the NHS provides similar support for treating it.
The NHS does provide addiction support services, primarily in the form of inpatient rehab programmes in Berkshire. These are, however, high in demand, and those wanting to access them will often need to join a waiting list.
For more information on how the NHS can provide support for addiction, see the official NHS website or get in touch with your GP.
Please call our 24-Hour Helpline: 0800 326 5559
NHS addiction treatment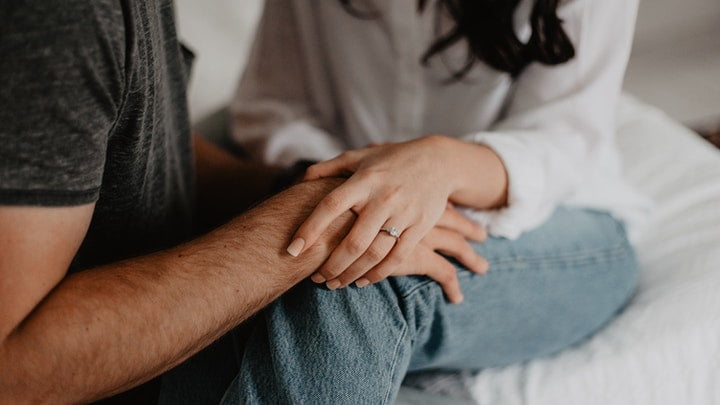 Private addiction treatment is a viable option for getting help for substance abuse, but it is by no means the only option. For example, the NHS provides amazing healthcare to UK citizens and offers support for those struggling with addiction.
This support primarily comes in the form of inpatient rehab , which involves individuals taking up accommodation in a facility, staying there, and completing their addiction treatment.
A great advantage of NHS-provided addiction services is that they are very affordable. This is because the NHS offers healthcare and does not charge, meaning that individuals do not need to have a significant amount of savings at their disposal in order to get help.
Similarly, NHS addiction treatment is also accessible in terms of how many facilities it has spread across the UK. Treatment centres can be found in every town and county in the country, meaning that individuals always have a local option for getting support.
Where NHS options are limited, however, is in the quality of support they can offer. Resources and funds are spread equally throughout all NHS centres, meaning that each one can only provide the bare minimum amount of care to those who they care for.
This also means that the capacity of each individual facility is limited. Each treatment centre can only take a certain number of patients, meaning that individuals very often have to join waiting lists to get care. These delays can lead to addictions getting worse.
Other free organisations
Below is a list of other organisations that offer free support and advice for addiction around Berkshire:
1. New Hope
Address: 16, 17 Market St, Bracknell RG12 1JG
Telephone: 01344 312360
Website: http://ihub.bracknell-forest.gov.uk/kb5/bracknell/asch/service.page?id=VFbEd1SZ4J4
2. Yeldall Manor
Address: Blakes Ln, Hare Hatch, Reading RG10 9XR
Telephone: 0118 940 4411
Website: http://www.yeldall.org.uk/
3. Turning Point
Address: The Glass Tower, 6 Station Road, Orchard Centre, Didcot OX11 7LL
Telephone: 01235 514360
Website: http://wellbeing.turning-point.co.uk/oxfordshire/hubs/didcot-hub/
You can also call a number of helplines, including Mind UK, YoungMinds, Rethink Mental Illness, Samaritans and Papyrus, SMART Recovery or find an Alcoholics Anonymous, Narcotics Anonymous or Cocaine Anonymous that's near you. The NHS are also there to provide you with help.
Please call our 24-Hour Helpline: 0800 326 5559
Inpatient or Outpatient Treatment in Berkshire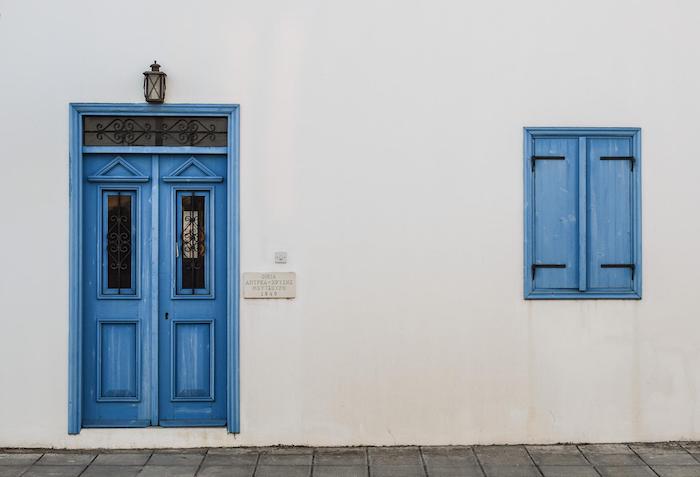 When individuals want to begin drug and alcohol rehab in Berkshire, they have two main options in terms of what style of treatment they go with: inpatient and outpatient.
While valuable in their own respects, choosing between these options is very important for ensuring that individuals get the right kind of care. Different circumstances will require different approaches to rehab, and making the right decision is important.
Individuals do not need to feel put off by this decision. Finding the right kind of care is easy once these styles of rehab have been assessed for their traits and benefits, so taking a look at both inpatient and outpatient in Berkshire, in turn, can be very useful.
Please call our 24-Hour Helpline: 0800 326 5559
Inpatient Treatment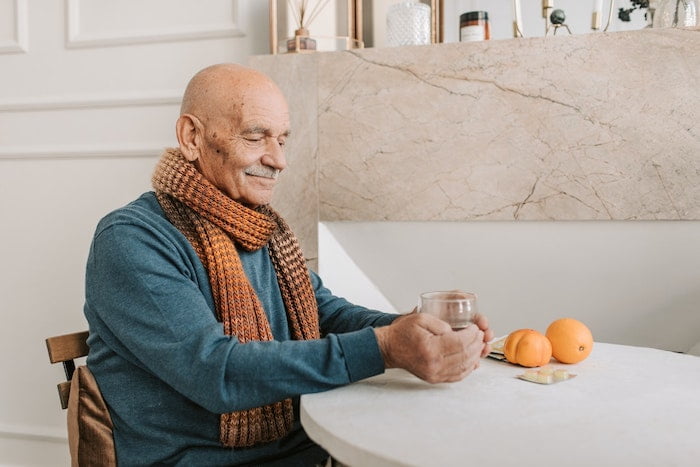 This form of addiction rehab involves individuals entering an addiction facility and staying there as they progress through their recovery treatment. They are provided with accommodation and food and supervised by specialists and doctors.
Addiction is not a simple process, and inpatient care greatly benefits by ensuring that detox and therapy treatments are safely executed.
For conditions like alcoholism, trying to get sober can spark dangerous withdrawal, and so being monitored keeps individuals safe.
In addition, inpatient care provides thorough support for individuals with long-lasting benefits. Simply a result of how much time they can spend with doctors and therapists, the progress made with physical and psychological dependency can't be matched.
A disadvantage to this form of treatment is that it greatly restricts an individual's personal freedoms. Those who enter inpatient care cannot leave until they are safely able to do so, which means that they cannot leave until treatment is completed.
Inpatient addiction treatment is most suitable for those with a well-developed substance abuse condition.
It is designed to best help those with unmanageable dependencies and risk threatening their physical or mental well-being if left unsupervised.
Please call our 24-Hour Helpline: 0800 326 5559
Outpatient Treatment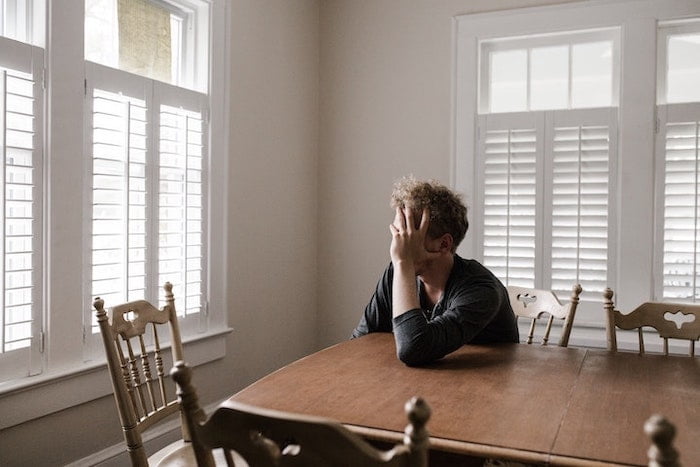 Quite the opposite of inpatient care, this form of addiction rehab involves individuals attending meetings with specialists and therapists, working through their condition and returning home between sessions.
What makes this approach to rehab beneficial is the level of flexibility that it offers. Individuals can attend sessions at times that are compatible with their other work and family commitments, allowing them to continue as much as possible with their life.
Similarly, outpatient sessions can adapt their focus week by week to provide individuals with the most relevant support possible.
If cravings are an obstacle one week, sessions can attend to this and then adapt again the next week if motivation then becomes a problem.
Outpatient lacks, however, its ability to provide significant, life-changing support. Regular meetings do not grant enough time to carry out a detox or thorough therapy, so this treatment is limited to offering advice and guidance.
This form of treatment is most suitable for individuals with newly developed and manageable conditions. Its structure works best when advising those at the start of their addiction regarding how to prevent more serious issues from developing.
Please call our 24-Hour Helpline: 0800 326 5559
Why does private residential rehab in Berkshire offer a better outcome?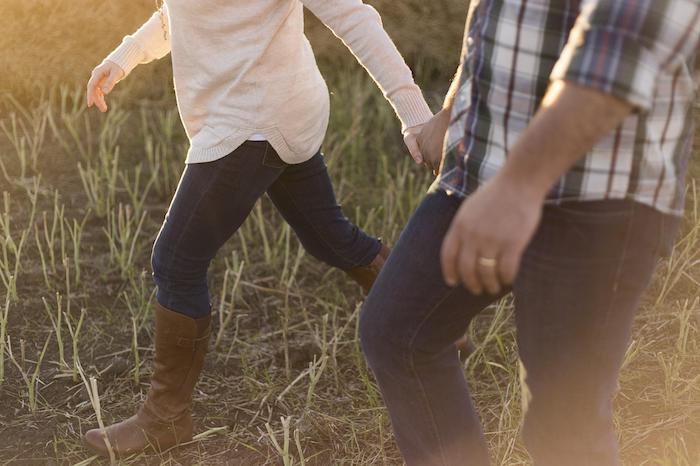 Private residential rehab in Berkshire offers a higher success rate with regard to addiction recovery for a number of reasons.
Whilst it can be difficult to commit to the financial and personal burden of attending this level of rehabilitation, the results speak for themselves, with a large percentage of those who attend maintaining a long-term sober life beyond their treatment.
Although NHS treatment programmes are available, they are generally less intensive, and unfortunately, significant underfunding in this area of medicine means that it is incredibly difficult to obtain treatment.
The waiting lists are long, and some people will lose their desire to recover whilst they wait and as their addiction takes a more substantial hold.
Some of the main reasons that private residential rehab is more successful are fairly logical, for example:
The secluded environment was designed with rehabilitation in mind and takes you away from your daily triggers
You are monitored throughout your attendance, making it incredibly difficult to relapse
There are highly trained staff organising the treatments which deal with addiction recovery daily
You have access to leading addiction recovery treatments
The programmes are structured and tailored to your specific requirements
Please call our 24-Hour Helpline: 0800 326 5559
Alcohol detox & rehab in Berkshire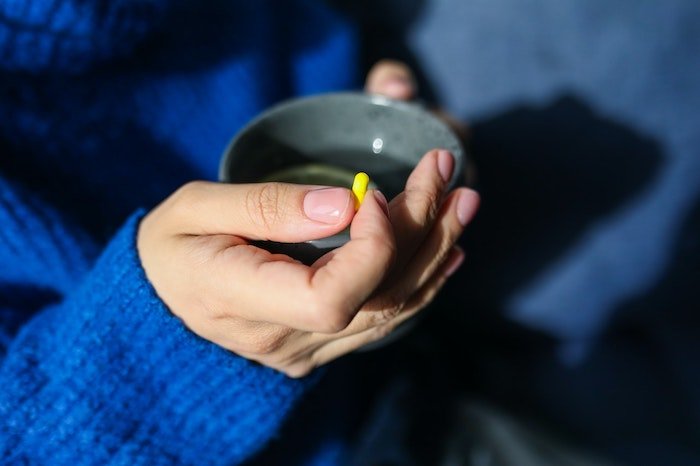 Alcohol is a substance known for its capacity to spark addiction. Alcoholism affects thousands of people in the UK alone and treating it is a careful process best carried out under the supervision and guidance of addiction specialists and doctors.
The reason why alcoholism needs to be approached with such care is that this form of addiction is known to trigger uncomfortable and especially dangerous withdrawal symptoms.
For example, individuals who suddenly stop their alcohol consumption are at risk of experiencing mood swings, insomnia, heart problems, and Delirium Tremens (a condition capable of causing sudden death).
Alcohol rehab needs to be particularly careful regarding these withdrawal symptoms, which is why it always begins with a detox process. This involves individuals stopping their consumption with the support of benzodiazepines that reduce withdrawal.
After around ten days of detox, individuals are treated with therapy, a stage of rehab which focuses on the triggers at the heart of their condition. Sessions help individuals recognise and work through their triggers over the course of several weeks.
Please call our 24-Hour Helpline: 0800 326 5559
Rehab for cocaine in Berkshire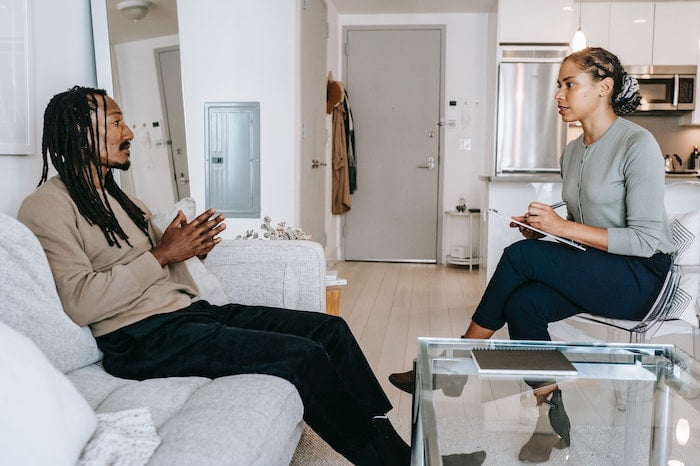 Cocaine is a drug often taken for the 'high' that it provides. Individuals who take it feel pleasurable sensations of happiness, confidence, and excitability, but frequent consumption can trigger addiction.
Unlike alcohol, cocaine does not cause the body to become dependent on it. Instead, it causes the brain to become so used to cocaine consumption that an individual thinks they cannot cope without taking it. This is known as psychological dependency.
As a result of this, rehab for cocaine in Berkshire does not involve a physical detox process. Instead, the primary method of treatment is therapy which focuses on addressing and working through the mental and emotional roots of addiction.
The style of therapy used during rehab in Berkshire will depend on the triggers of a specific individual's condition. There are different approaches for those caused by thoughts, emotions, other mental health conditions, or relationships.
Regardless of what approach is taken, therapy's objective is to help individuals recognise the triggers of their addictive behaviours and supply them with ways to reduce the likelihood of psychological dependency taking control again in the future.
Please call our 24-Hour Helpline: 0800 326 5559
Rehab for heroin in Berkshire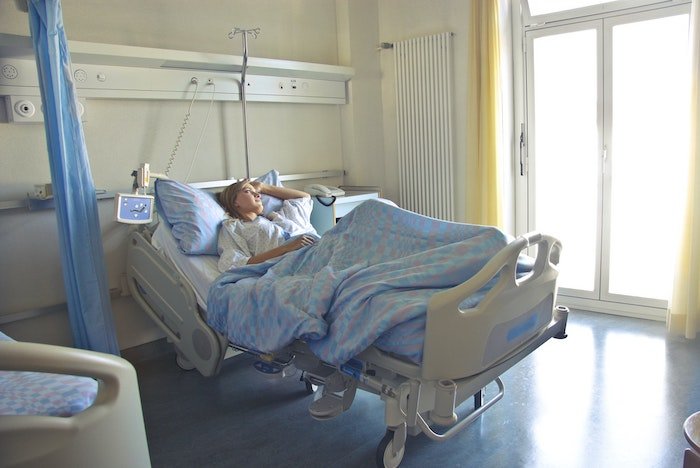 Heroin is an incredibly dangerous substance capable of triggering changes in the body, much like alcohol. When individuals take it on a regular basis to experience the 'high' that it creates, they can find themselves becoming physically dependent on it to function.
Rehab for heroin, therefore, is a twofold process, beginning with a detox which helps individuals become physically sober. This usually involves the prescription of Librium, a benzodiazepine which reduces withdrawal and makes quitting consumption easier.
Following this, rehab in Berkshire involves a period of therapy which looks to help an individual work through the reasons for their frequent consumption of heroin. It can focus on their thoughts, feelings, or social situation, equipping them with skills to remain sober.
For example, suppose tensions in an individual's family are the cause of their heroin addiction. In that case, family therapy can be used to help ease these issues and provide families with techniques for reducing the odds of similar problems coming back in the future.
Please call our 24-Hour Helpline: 0800 326 5559
Rehab for cannabis in Berkshire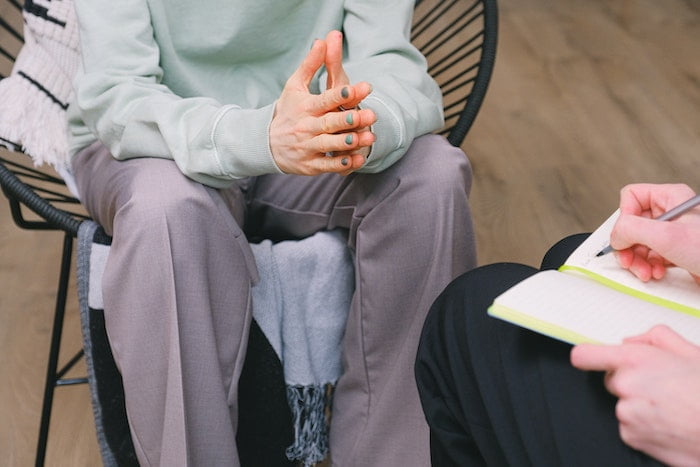 Cannabis is a substance that individuals use to experience a 'high' which triggers strong sensations of happiness, confidence, and excitement.
Unfortunately, with frequent use, these pleasurable feelings can cause the brain to become hooked on the drug, establishing addiction.
Unlike alcohol, cannabis does not influence the body in terms of forcing dependency. As a result, rehab for cannabis in Berkshire does not involve a period of detox, which is usually used to help alleviate physical dependency.
Instead, the primary treatment method is therapy. While this can look different from case to case, depending on the cause of a specific individual's substance abuse, the goal of therapy is always to help them identify and work through their harmful tendencies.
For example, through Cognitive Behavioural Therapy (CBT), individuals learn to spot the thought processes that lead them to substance use and develop techniques to prevent and healthily respond to them to prevent the same from happening in future.
Please call our 24-Hour Helpline: 0800 326 5559
Is attending drug and alcohol rehab in Berkshire safe?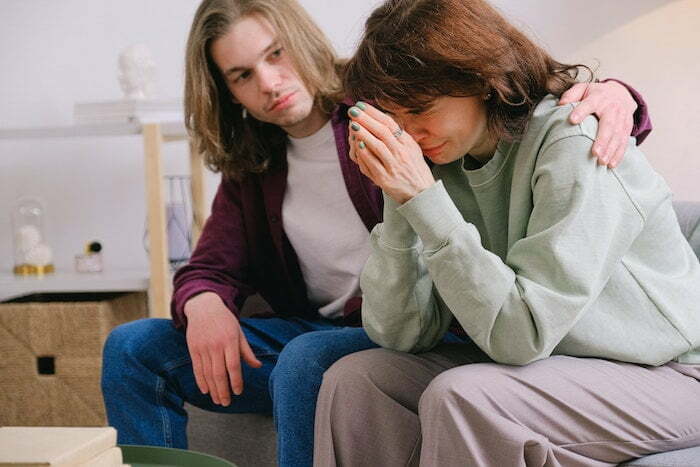 Residential rehab in Berkshire is actually the safest recovery option available to those struggling with addiction.
Detoxification, in particular, is a risky process to attempt alone and the continued support throughout a residential rehab programme means that you are safely supported throughout the entire process.
Our partner facilities also offer a complete recovery programme, which addresses every aspect of your addiction. They also will ensure that you have a strong and viable support network in place when you return to your daily life.
All staff are highly trained, and there are medical doctors on hand 24 hours per day.
Please call our 24-Hour Helpline: 0800 326 5559
Types of therapies on offer in Berkshire rehabs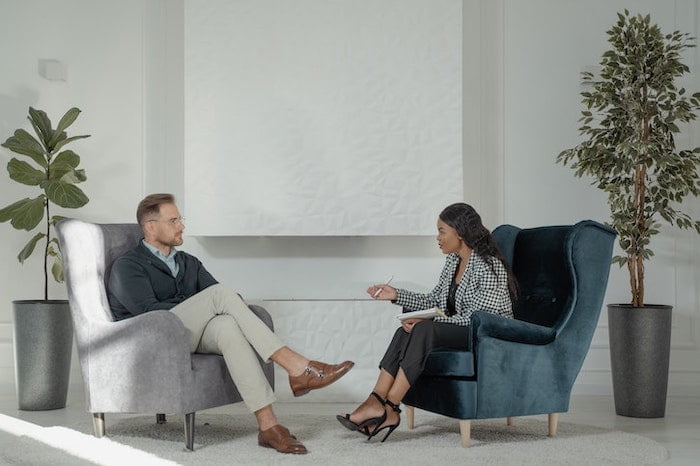 Every form of addiction will require therapy of some form. While detox can be very important for substance abuse problems that create physical dependency, this is not the case for all kinds of addiction. Psychological dependency, on the other hand, is.
Every case of addiction involves individuals believing that they need to use drugs or alcohol to function or be happy, which is what therapy concerns itself with addressing. Every drug and alcohol rehab in Berkshire has therapy as an essential stage of recovery.
How therapy is carried out, however, is not so universal. Different approaches can be taken to focus on whatever triggers an individual finds themselves facing, and exploring these can be useful for demonstrating how expansive and varied support options are.
Please call our 24-Hour Helpline: 0800 326 5559
Cognitive Behavioural Therapy (CBT)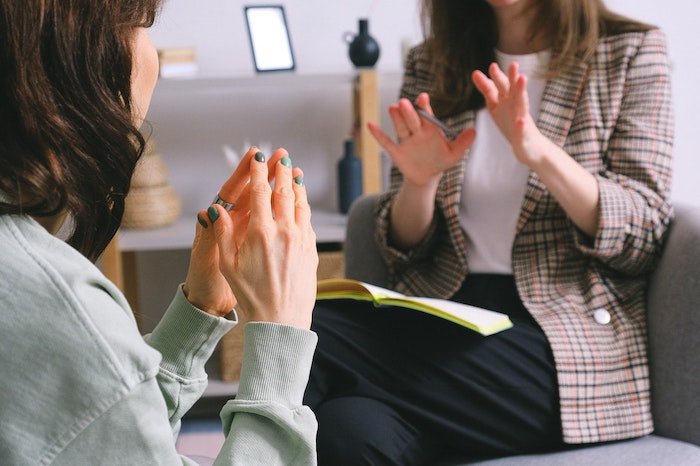 How an individual thinks is integral to their behaviour. How their brain develops associations strongly influences what they do in times of stress or panic, and this is often how addictions develop.
When drugs or alcohol are used in order to calm anxiety or alleviate depression, the brain creates an association between this relaxing effect and the substance taken, remembering it for the future.
This establishes a very harmful thought process, causing individuals to think about substance use whenever they get stressed. To combat this, Cognitive Behavioural Therapy (CBT) is needed.
This style of therapy targets these thought processes, helps individuals understand them, and teaches them techniques for breaking bad habits and forming new, healthier associations.
Please call our 24-Hour Helpline: 0800 326 5559
Dialectical Behavioural Therapy (DBT)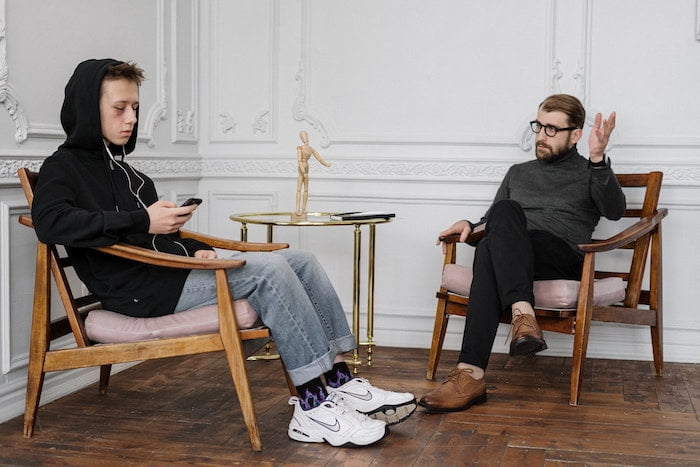 People with addiction commonly have trouble processing and handling their emotions. Anger, guilt, sadness, excitability – no matter the specific feeling, it is normal for their dependency on substances to stem from them wanting to gain more control over emotions.
Tackling addiction, therefore, can sometimes be a matter of not engaging directly with the substance abuse but trying to understand the feelings that provoke it. This is the approach of Dialectical Behavioural Therapy (DBT).
DBT helps individuals better understand the strong feelings they experience, recognise where they come from, and practice techniques for handling them/preventing them from getting so out of hand that substance use is the only option available.
Please call our 24-Hour Helpline: 0800 326 5559
Brief Interventions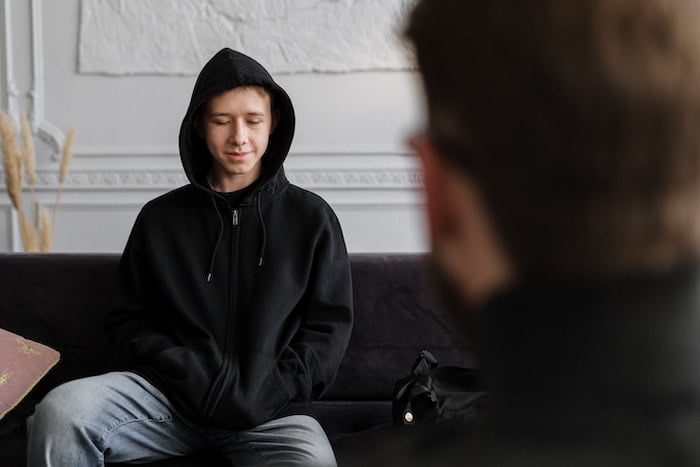 Therapies often adopt a very structured approach to tackling addiction, but this is not the only way treatment can be approached. Instead, it can also function on a much more flexible foundation, and this is what Brief Interventions try to do.
With this form of therapy, individuals meet with a therapist on a regular basis to work through their addiction. Each session takes on whatever angle or focus is deemed most necessary, and the therapists adapt their support to whatever the individual needs.
Brief Interventions work to support individuals as they go through rehab in Berkshire and accommodate for the unexpected obstacles and challenges they face along the way. Its approach caters to their developing needs, staying relevant and helpful at all times.
Please call our 24-Hour Helpline: 0800 326 5559
Motivational Interviewing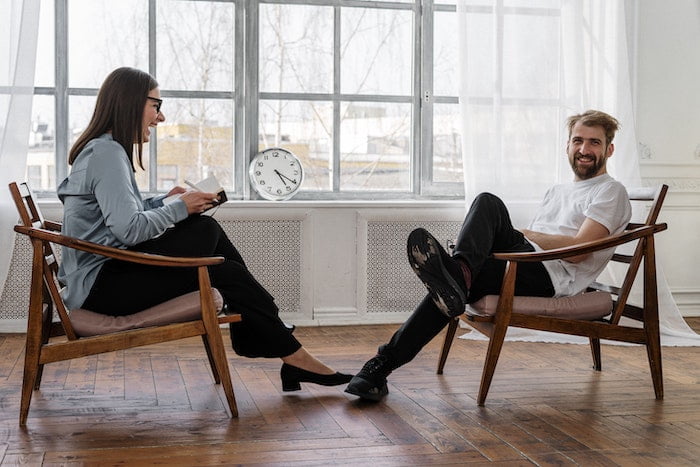 Every person who begins addiction treatment has reasons for doing so. Physical health, mental health, family, career – there are many things that they want to get sober for, but rehab in Berkshire can often push these motivations to the background.
It is no secret that rehab in Berkshire is demanding both physically and mentally. As a result, individuals can want to give up, forget or no longer care about why they started the process in the first place.
Motivational interviewing is a therapy method which helps individuals reclaim these reasons. It helps them establish what they want to gain (whether directly related to rehab or their life in general) and replace these at the centre of their day-to-day efforts.
Please call our 24-Hour Helpline: 0800 326 5559
Holistic therapies (e.g. equine therapy/music therapy/art therapy/adventure therapy)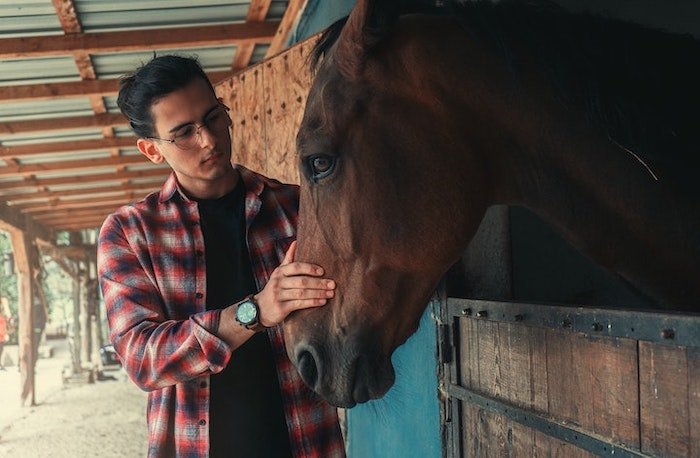 Instead of directly focussing on substance abuse, it is becoming increasingly common to incorporate holistic therapies in rehab that treat individuals as a whole and boost their mental and physical health in general.
Therapies like these can take many different approaches to provide this support. Individuals can work with animals, learn to play musical instruments, or participate in exercise, all of which look to improve their worldview and attitude.
Holistic therapies try to give individuals alternative ways of feeling good than substance use and try to improve health so that it is at a standard where drugs and alcohol are no longer required in order to improve mood and wellbeing.
Please call our 24-Hour Helpline: 0800 326 5559
Group Therapy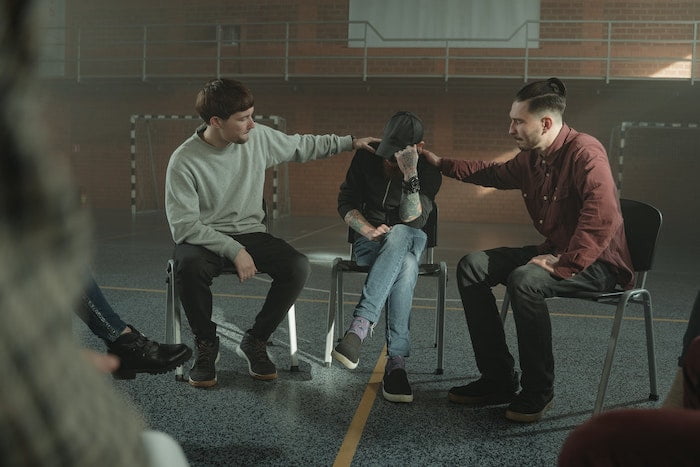 While working with a therapist can be incredibly valuable, addicted individuals can learn a lot from talking to others also going through addiction recovery. This kind of support can be facilitated by group therapy.
In this treatment, individuals discuss and open up with one another about their addictions. Under the guidance of a group leader, they discuss their experiences, emotions, and thoughts when it comes to substance abuse.
Using their own first-hand knowledge, attendees then support and advise one another. Those further along in the rehab process can offer advice to those just starting out, and an atmosphere of care and belonging can be established for everyone.
Please call our 24-Hour Helpline: 0800 326 5559
Individual Therapy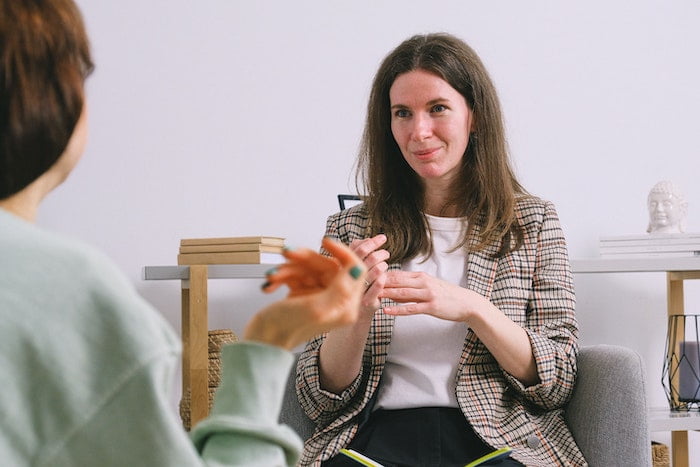 When people think about therapy, they can often imagine sitting one-on-one with a therapist and talking about thoughts and emotions. While cliché, this style of support can actually be very effective for helping those with addictions.
In individual therapy, an individual and an addiction specialist can sit down together and talk through everything related to substance abuse.
Thoughts, emotions, triggers, cravings, motivations – everything of concern can be explored and worked through.
The value of this therapy method lies in the rapport that forms between individuals and therapists. With so much time spent together, trust forms, increasing the likelihood that the techniques and routines discussed for recovery will be adopted and taken seriously.
Please call our 24-Hour Helpline: 0800 326 5559
Family Therapy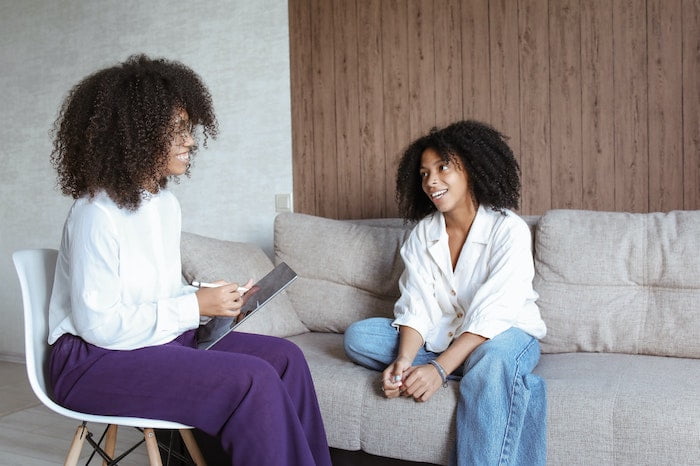 Addiction can be brought on by all kinds of triggers, including tensions, disagreements, or falling-outs between family or household members.
When this is the case, an individual working with a therapist will not be a sufficient enough strategy to help them work around or avoid their addictive triggers. As a result, the relevant family members will need to be brought into the treatment environment.
The tensions within a family's dynamic that led to an individual developing their addiction are discussed and worked through with family therapy. Techniques are also taught to reduce the chances of similar problems resurfacing in the future.
Please call our 24-Hour Helpline: 0800 326 5559
Co-dependency Treatment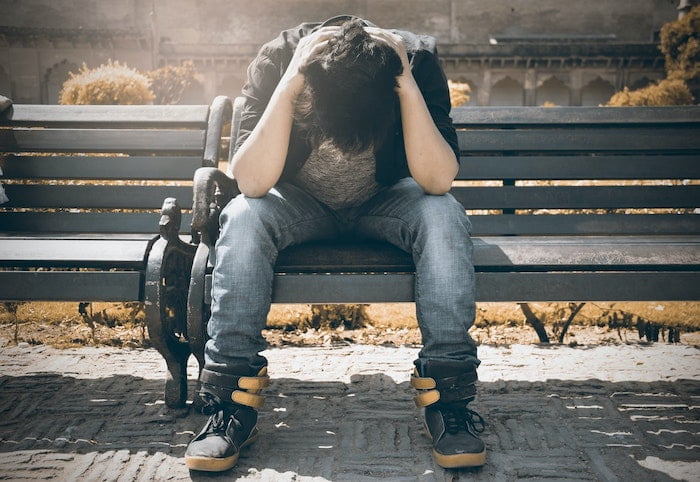 Individuals who struggle with co-dependency experience difficulties when it comes to having healthy relationships with those they care about.
Co-dependent individuals tend to see their relationships as a source of control, self-validation, or identity. For example, they might see their spouse's behaviour towards them as a direct indicator of how to view themselves.
Addiction can develop through co-dependency when substance use is practised by someone they admire or respect. For example, if a spouse uses heroin, a co-dependent individual may do the same to a more serious degree in order to gain validation or respect.
Treating this kind of dependency requires a therapy treatment that directly tackles this behaviour, teaching individuals to see their relationships healthier, draw healthier boundaries, and stop viewing addiction as a means of attaining identity or self-worth.
Please call our 24-Hour Helpline: 0800 326 5559
Twelve-Step Facilitation Therapy (TSF)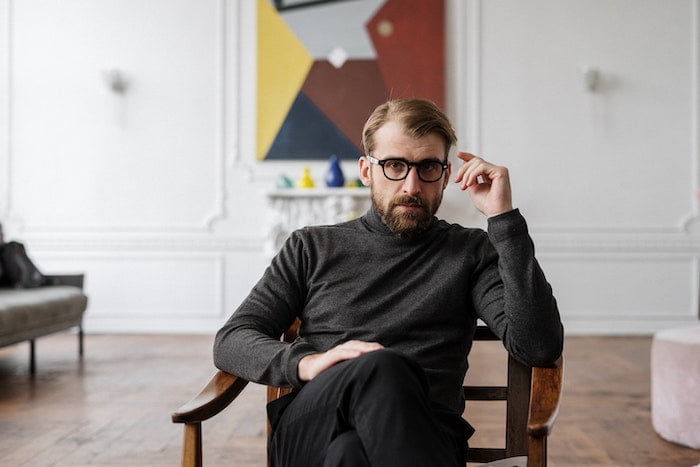 As a meeting-based therapy option, Twelve Step Facilitation Therapy (TSF) differs from other forms of treatment in that it does not only concern itself with helping individuals overcome their addictive tendencies.
In addition, it helps individuals see recovery in a healthier way. Instead of teaching that sobriety is the ultimate goal, TSF helps them to see it as a constant struggle in which they will make progress through consistent effort and patience.
TSF also encourages individuals to take their recovery into their own hands in part and take advantage of all forms of addiction support that exist in the wider recovery community.
Please call our 24-Hour Helpline: 0800 326 5559
The importance of dual diagnosis for co-occurring disorders in rehab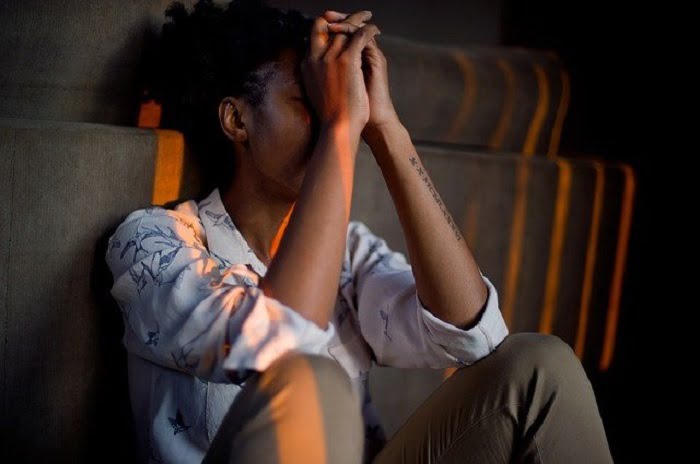 Substance abuse conditions don't just develop out of nowhere or randomly. In every case of addiction, there is something that pushes an individual toward using drugs or alcohol on a frequent basis and becomes dependent on them.
Very often, this trigger of addiction is another mental health condition like anxiety or depression. These conditions' mental and physical symptoms can make individuals feel uncomfortable, irritable, or in need of relief, and substance use can provide this.
When addiction develops in this way, it is known as dual diagnosis, and recognising this is pivotal when it comes to delivering effective therapy.
Therapy's main goal is to help individuals identify their motivations for addiction and address them through changes in routine or developing coping mechanisms. Dual diagnosis, therefore, directs attention to an individual's mental health for appropriate support.
For example, suppose an individual's alcoholism is sustained by their desire to suppress anxiety. In that case, therapy can help them recognise this and develop techniques for calming down and handling these situations in a healthier way.
Please call our 24-Hour Helpline: 0800 326 5559
How rehab in Berkshire helps with relapse prevention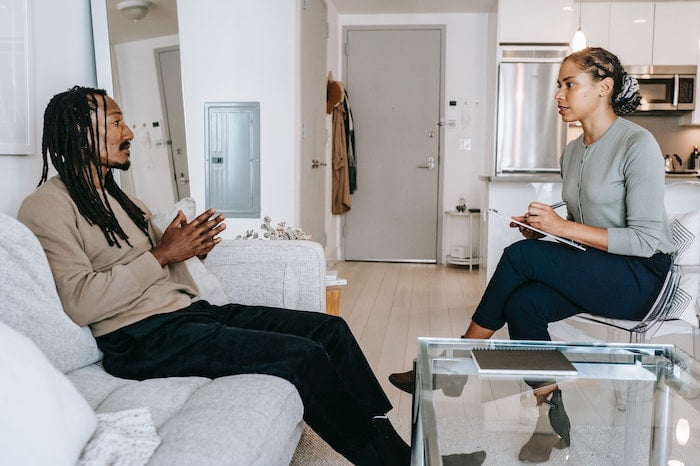 Addiction treatment functions on three core pillars, each of which is essential for beating substance abuse. Drug and alcohol rehab in Berkshire begins with detox to alleviate physical dependency (unless not required), followed by therapy to target addictive motivations.
Third, but by no means least important, is relapse prevention. This final stage of rehab in Berkshire helps individuals prepare for returning to their everyday lives, which is an essential stage of recovery.
Going home means coming into contact again with the triggers that sparked addiction in the first place. Adequately preparing individuals for this, therefore, will make all the difference in whether they relapse or not, and there are several ways this can be gone about.
Please call our 24-Hour Helpline: 0800 326 5559
HALT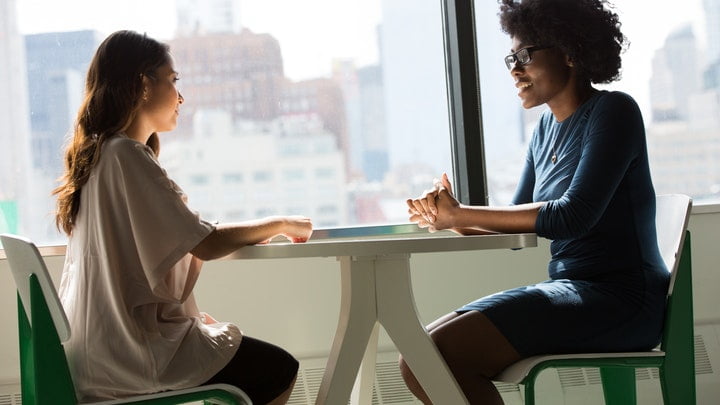 The body can be a confusing system of signals and impulses, and interpreting these can be difficult for those recovering from addiction. Everyday sensations of hunger or tiredness can be mistaken for cravings – given their similar discomforting effects – leading to relapse.
In order to prevent individuals from succumbing to this, HALT is a technique which works to bring their attention to these normal urges and ask themselves if, instead of experiencing cravings, they are actually just in need of food, sleep, or a friend.
It is an acronym, each letter standing for a question that individuals need to ask themselves when they think they have cravings. These are:
Am I hungry?
Am I angry?
Am I tired?
In doing this, individuals give themselves a chance to feel better without immediately turning to substance use.
Please call our 24-Hour Helpline: 0800 326 5559
Anticipating Triggers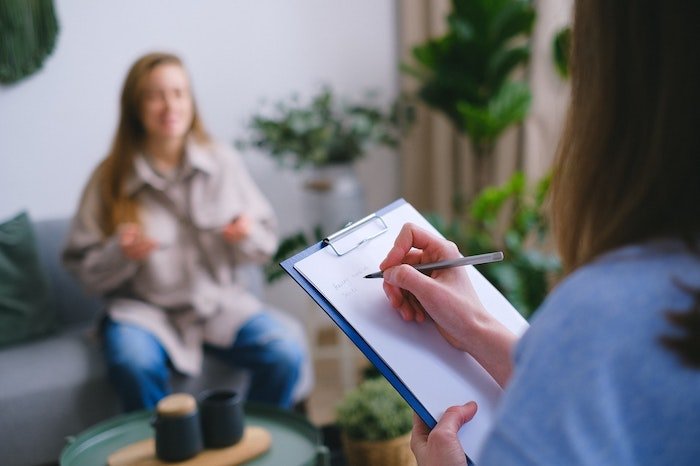 Addiction rehab in Berkshire has many focuses, one of which is helping individuals recognise the triggers that push them towards addictive behaviours. Therapy concerns itself primarily with this, and relapse prevention can work with these findings.
Returning to their everyday lives means individuals come into contact with these triggers again, and a great technique for preventing relapse is to make a note of what these are, where they are, and how they can be avoided.
For example, if an individual experiences anxiety at work which pushes them towards substance use, they can prepare themselves by practising breathing techniques or mindfulness to stay calm or arrange their workday to limit unwanted surprises.
Please call our 24-Hour Helpline: 0800 326 5559
Getting support from family and friends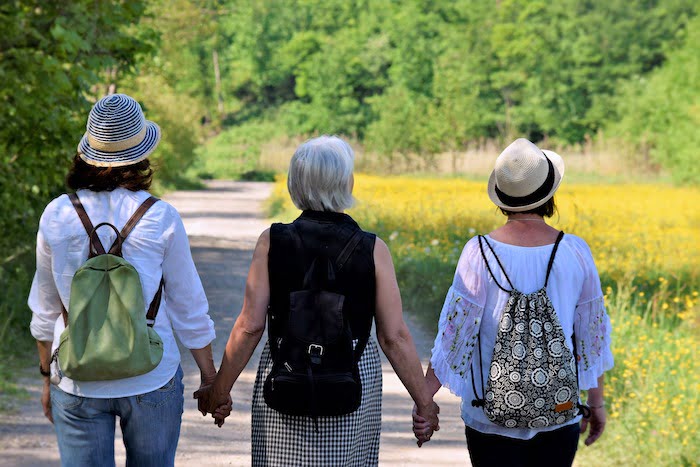 Being able to talk about the feelings and thoughts of addiction is a large part of why rehab is so effective.
Working with therapists and engaging in group therapy gives individuals an outlet for discussion and opening up, but this is taken away when they go home again.
Going home can mean individuals have no one to talk to and so become isolated, and this is when they are most likely to turn to substance use as a way to feel better. To combat this, it can really help for them to talk to family and friends.
By letting their loved ones know what they have been through and asking them for support, individuals can develop a strong support network that they can rely on when things get difficult.
Please call our 24-Hour Helpline: 0800 326 5559
Emergency Preparations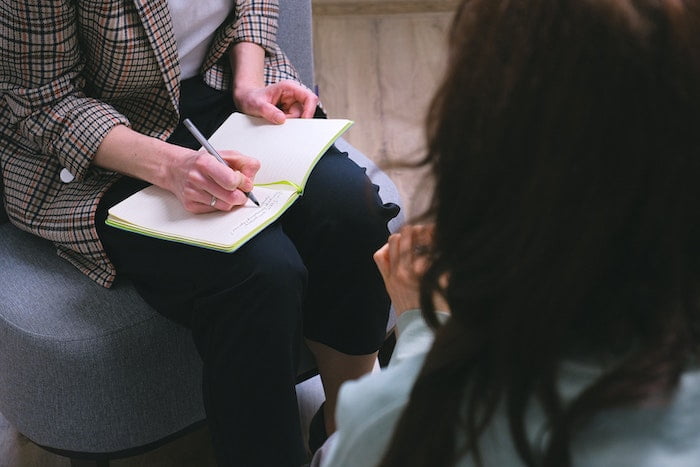 Preparing for relapse can involve many different techniques and strategies, but even the most committed and stringent individuals can find themselves on the brink of succumbing to cravings.
When all else has failed and relapse is so close to manifesting, individuals can prepare emergency plans to protect themselves. These are to be utilised at the last minute when there is nothing else to do before relapse occurs.
For example, individuals might make arrangements with a local treatment facility and, when they have no other options, go into inpatient care until the cravings for a certain substance subside.
Please call our 24-Hour Helpline: 0800 326 5559
Aftercare and support services once rehab in Berkshire has been completed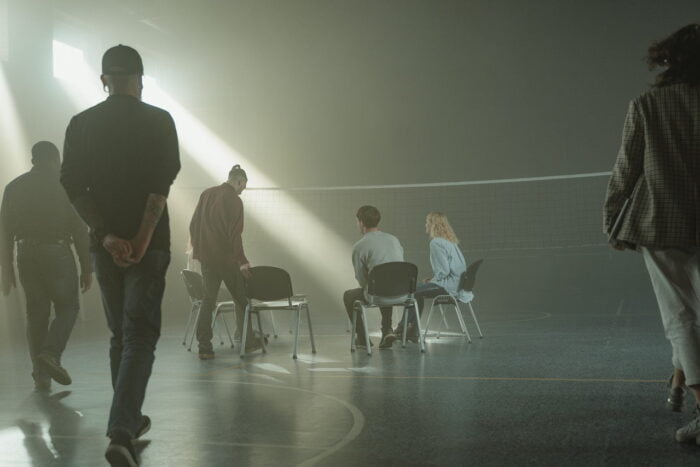 Drug and alcohol rehab in Berkshire does everything it can to support individuals and get them to a healthier position in life, but that does not mean they are 'cured'. Tackling addiction is an ongoing process, and leaving rehab is just one major milestone.
Leaving rehab in Berkshire puts individuals in the path of many obstacles and triggers that will threaten their newfound stability and independence.
Aftercare's goal is to support them during this period and give them skills and techniques for staying calm and maintaining their progress.
Please call our 24-Hour Helpline: 0800 326 5559
Alcoholics Anonymous (AA) and Narcotics Anonymous (NA)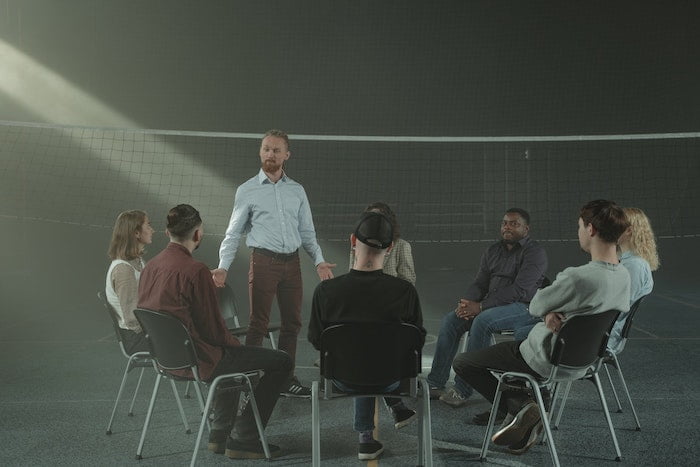 Many people have heard of Alcoholics Anonymous and Narcotics Anonymous meeting-based programmes because of their presence throughout popular culture and media.
As well as being well-known, they are also very effective programmes for individuals to get support after rehab in Berkshire.
They involve recovering individuals attending meetings along with others to discuss their thoughts, feelings, and difficulties. Each attendee is encouraged to speak and contribute to the conversation in a way that opens them up for advice and guidance.
These meetings, along with the personal support of a sponsor, make individuals feel supported and provide them with a sense of belonging to enable them to prevent relapse.
Please call our 24-Hour Helpline: 0800 326 5559
SMART Recovery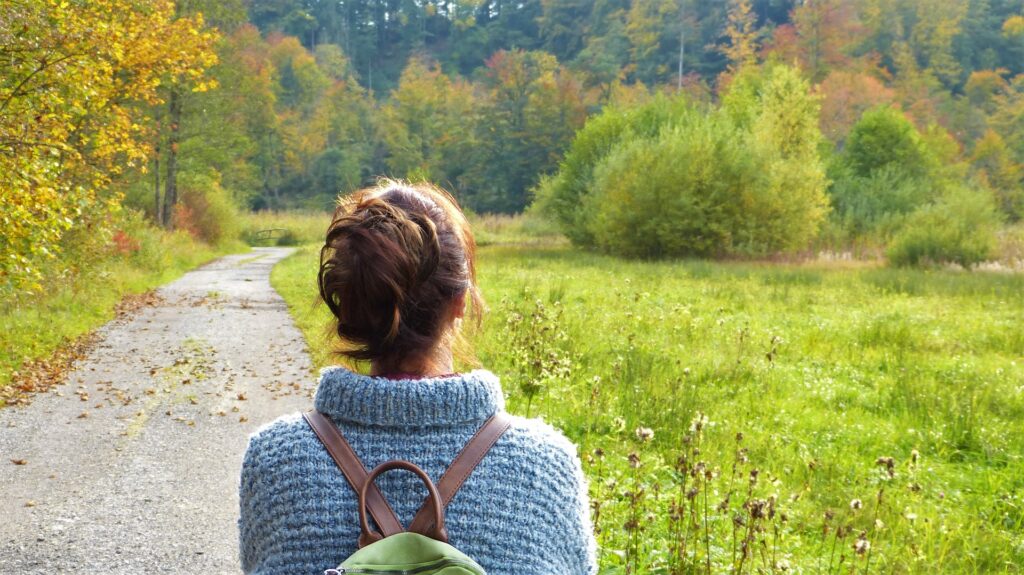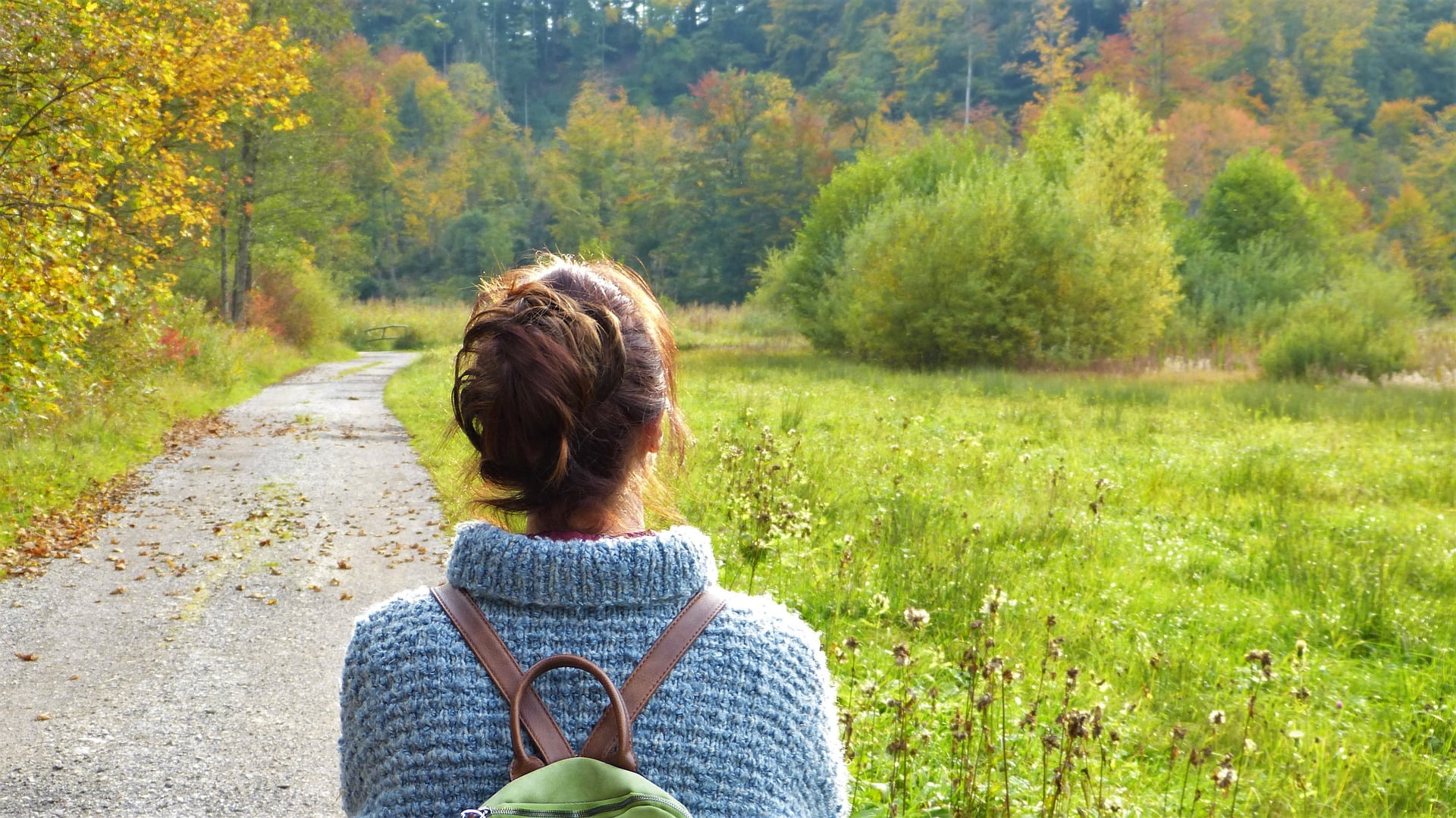 Aftercare services predominantly help individuals fight cravings and keep on top of their battle with addiction.
SMART recovery helps with this, but it also goes a step further and helps individuals better conceptualise the process of recovery itself.
While primarily helping individuals work through their ongoing recovery, SMART also helps them see that getting better is not a process of achieving some end goal or getting 'fixed' but one of gradual progress and consistency.
Instead of seeing sobriety as an end goal – which can often be overwhelming – individuals are taught to focus on four more immediate targets.
These are managing cravings, sustaining motivation, staying healthy, and taking day-to-day obstacles as they come.
In doing this, individuals remain focused and engaged and don't feel like they have a mountain to climb when it comes to conquering their addictive urges.
Please call our 24-Hour Helpline: 0800 326 5559
Home Detox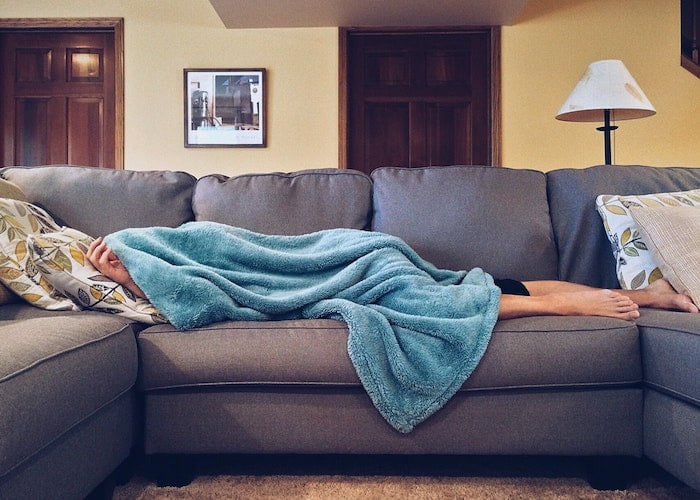 Physical dependency is difficult to overcome, and detox is one of Berkshire's most important drug and alcohol rehab stages. When individuals leave rehab in Berkshire, relapsing can be a very worrying prospect, making them think they will need to start the process all over again.
Thanks to home detox, however, this can be avoided. For those who relapse but are keen to bounce back and maintain their progress, this option allows them to get sober again without needing to return to a treatment facility.
It involves the delivery of benzodiazepines to an individual's home (usually Librium) that enable them to quit their consumption and reattain sobriety by dampening the impact of their withdrawal symptoms.
Alongside check-ups with a detox specialist, home detox allows individuals to safely and effectively support themselves and regain independence when they face temptation following rehab.
Please call our 24-Hour Helpline: 0800 326 5559
Al/Anon Family Group Meetings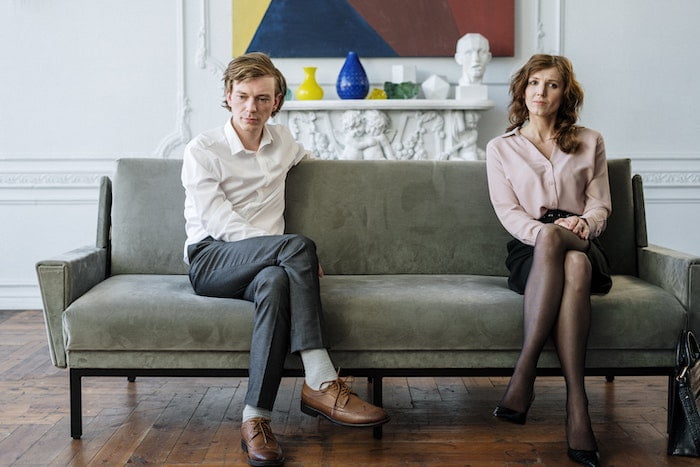 Addiction is such a terrible condition because its impacts are widely felt. Not only do the addicted individuals themselves have to face the physical and psychological effects of dependency, but their family and friends can also find it hard to cope.
When rehab in Berkshire ends, therefore, these same family and friends can find it hard to adjust to having their loved ones at home, either because they are anxious about their progress or because they don't know how to support them.
This is very normal, and Al/Anon meetings exist to bring families together to talk to and support one another when it comes to their addicted loved ones. As a result, friendships and support networks can develop, enabling attendees to better understand and live with addiction.
Please call our 24-Hour Helpline: 0800 326 5559
Outpatient Treatment via a local Drug & Alcohol team in Berkshire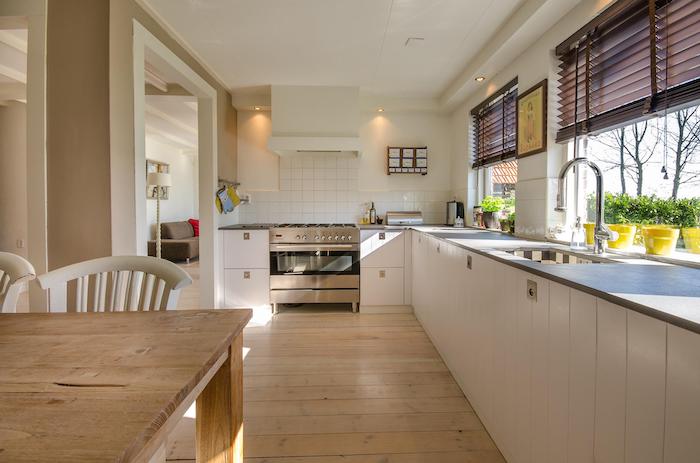 At the start of their rehab journey in Berkshire, an individual will need to decide whether to enrol on an inpatient or outpatient programme for their treatment. Even though many serious conditions will require the former, outpatient options can be effective sources of aftercare.
Meeting an addiction specialist on a frequent basis can help individuals keep the principles of rehab in mind and maintain their positive progress.
In addition, an outpatient's flexible style of treatment can be used to tailor treatment both to an individual's schedule and needs at the current time. Sessions can focus on motivation, cravings, or whatever else will support them best going forward.
Please call our 24-Hour Helpline: 0800 326 5559
How can OK Rehab help me to find a trusted addiction rehab centre in Berkshire?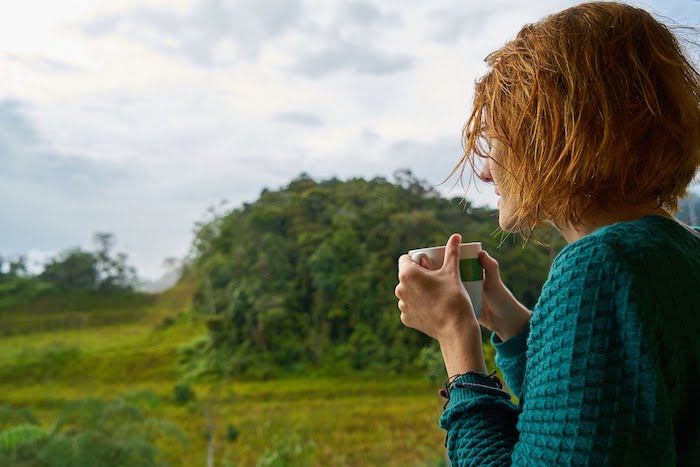 Once you've acknowledged your addiction and taken the bold step to seek professional help to support your recovery, we can help you to find a facility that is suitable.
Whether you wish to recover locally in Berkshire or further afield, we have trusted partner rehab facilities across the country.
In Berkshire and the surrounding areas, we can offer renowned private addiction treatment centres in:
As well as further afield, if you would prefer, in areas such as :
We can begin your pre-admission without the need for any GP referrals once we've completed a short initial assessment.
This assessment is used to find out more about you and your substance use, as well as what your recovery goals are.
We will ask you about what substances you use, how frequently and what quantities you consume. We will also ask about any side effects you may be experiencing and whether you have any pre-existing mental or physical health issues.
We will also want to confirm that you are preparedf to commit to a drug and alcohol addiction treatment programme.
Rehab in Berkshire offers your best opportunity to recover, but it is not a magical fix and requires those attending to have the desire to recover.
Our staff are dedicated to finding help for those who want it and are highly experienced in determining the appropriate level of treatment for different severities of addiction.
All calls to OK Rehab are completely confidential, and you will not be put forward for any rehabilitation programmes until you have found a facility that you are happy with and have committed to recovery.
All of our partner facilities are very well equipped with individual private rooms as well as a selection of wellness facilities, such as gardens, a gym and spa and leading therapy rooms.
The staff team consists of doctors, psychologists and specially trained addiction support counsellors and carers.
Please call our 24-Hour Helpline: 0800 326 5559
Will I receive any additional support post-rehab?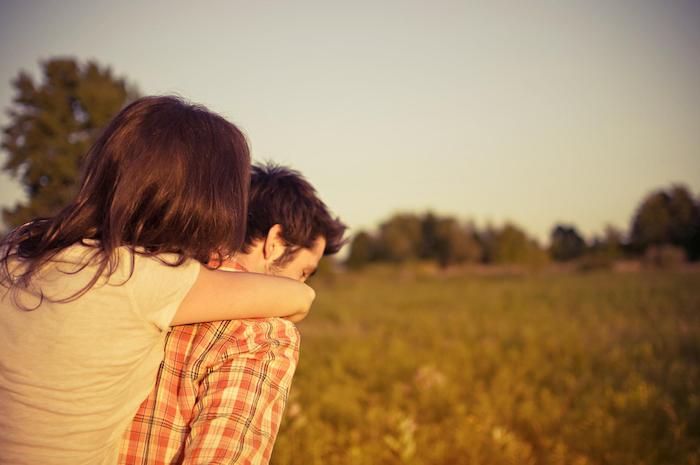 Once you've attended one of our trusted partner rehab facilities in the Berkshire area, you can expect to feel significantly more in control of your addiction.
It's important to understand that addiction is a lifelong problem that will not disappear. However, it can be much more easily maintained with the right mindset and tools to prevent relapses.
It's perfectly normal to feel anxious about returning to your previous life after having the benefit of complete support in your recovery.
While it may be difficult to anticipate now, you will be much stronger and better prepared to return to your life when you've completed your treatment.
You will also have access to extensive aftercare services for a prolonged period after your stay at residential rehab in Berkshire.
Aftercare treatment can include access to support groups that will aid in your sustained motivation and give you additional accountability and personal counselling sessions, as well as development opportunities such as training courses to provide you with healthy goals and habits.
You will also be armed with a relapse prevention plan and will have learned invaluable coping mechanisms to help you ignore your triggers and remove yourself from potentially triggering situations.
In Berkshire, there is a wide range of abstinence-based support groups, such as Alcoholics Anonymous and Narcotics Anonymous, all of whom will have regular contact with us here at OK Rehab and can provide key guidance and support in your long-term sobriety.
You are also able to continue your relationship with the rehab facility for up to eighteen months beyond the programme's completion.
Get Help Today
We hope that this has set your mind at ease when it comes to making your choice about reaching out for professional recovery treatment.
If you have any additional worries or concerns, contact us here at OK Rehab today.
We're ready to help you begin your route to recovery right here in Berkshire. All our drug and alcohol rehabs must be registered and audited by the Care Quality Commission (CQC).
OK Rehab also offers support across Reading, Windsor, Wokingham, Farnborough, Sandhurst, London, Barnet, Beckenham, Bexley, Brent, Brent Cross, Bromley, Camden, Croydon, Ealing, Enfield, Hackney, Hammersmith, Haringey, Harlow, Harrow, Hounslow, Islington and Chelsea.
If you are actively seeking help and want to make a positive change in your life, call OK Rehab today, and we can help talk you through the next steps on 0800 326 5559.
Please call our 24-Hour Helpline: 0800 326 5559
References
[1] https://www.ons.gov.uk/peoplepopulationandcommunity/birthsdeathsandmarriages/deaths/halfofheroinmorphinemisusedeathhotspotsinenglandandwalesareseasidelocations/2018-04-04
[2] https://assets.publishing.service.gov.uk/government/uploads/system/uploads/attachment_data/file/740438/Local_alcohol_consumption_survey_report.pdf
[3] http://pure-oai.bham.ac.uk/ws/files/25519189/DENIAL_PICKARD_M_L_FINAL_PRE_PROOF.pdf